Himeno Awayuki



Alternate Name(s)

Tulip-Head (by Hayate)

Voice Actors

Japanese: Sayuri Yoshida, English: Luci Christian

Height

164 centimeters

Weight

48 kilograms

Age

16

Gender

Female

Hair Color

Reddish-brown
At the start of the series, Himeno Awayuki is a normal 16 year-old girl whose father, a writer, had just gotten married to the richest woman in Japan. Himeno's best friends is a young girl by the name of Yayoi Takato.
AppearanceEdit
Himeno had a short red-ish pink hair, pale skin, and pinkish-red orange eyes. She wears a school uniform, consists of a long sleeved cream shirt with blue around the wrist and collar, a short blue skirt with a white line on the bottom, and a pair of brown boots that came to her knees.
Through her father's marriage, Himeno gained two new stepsisters: Mawata Awayuki and Mayuni Awayuki, but she did not feel like she fits in or belongs in her new family, that's when she meets The Leafé Knights. Although initially reluctant to take on the role as Prétear she eventually comes to accept her new found powers and abilities and gains trust and friendships among each of the knights. Later she starts to develop feelings for the Leafé Knight Hayate even though he tries to distance himself from her. As the story progresses Hayate's feelings for Himeno and vice versa become more evident. Himeno turns into the legendary White Pretear, resurrecting Sasame and destroying the Great Tree of Fenrir.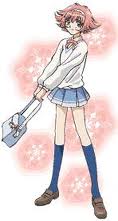 Powers and AbilitiesEdit
As the Prétear, Himeno has the ability to pret with the other knight's, doing so, she can use their powers to defeat the Demon Larvae. Initially, she can only pret with the other seven Leafé Knights. But as the series progresses, she is able to transform to the Legendary White Prétear.
Himeno's favorite drink is apple-flavored tea.
Himeno's birthday is on July 9th.
Himeno's star sign is the constellation Cancer.
Himeno is called tulip head because her hair looks like an upside down tulip.
Community content is available under
CC-BY-SA
unless otherwise noted.