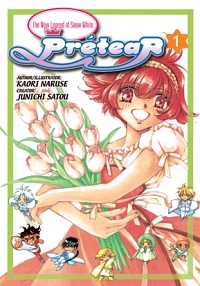 The Prétear (manga) was a four-volume manga series, created by Junichi Sato and published by ADV Manga. All volumes were released in the United States from May 30, 2000 to July 18, 2001.
A high school girl Himeno Awayuki is attempting to adjust to her new life after her widowed father Kaoru Awayuki remarries wealthy widow Natsue. While taking a short cut to school, Himeno jumps out of the bushes into a young man by the nameHayate, the Knight of Wind. After some arguing Himeno tries to punch Hayate, but he blocks her hand causing a powerful light. Later she meets the other Leafé Knights who tell her that the red snow that has been falling on the town recently is being caused by the Princess of Disaster who is awakening, and that she is using demon larva to absorb Leafé, the essence of all life. They ask Himeno to become the Prétear and help them protect the world. Himeno is initially reluctant, believing they are trying to play a trick on her. When a larva attacks them and begins stealing Leafé, Himeno agrees to help. Hayate tells her to take his hand and she merges with him to become the Wind Prétear. After adjusting to her new powers, Himeno is able to defeat the larva...
Volume list
Edit
1 Chapter 1-5 Hang in there, Mr. Tanaka
2 Chapter 6-10 Afterward
3 Chapter 11-13 About the Anime
4 Chapter 14-18 Epilogue
Junichi Satou created Prétear out of his desire to work on a series for women that featured good-looking young men. Wanting to base the story on a fairy tale, he asked himself what Snow White and the Seven Dwarfs would be like if the dwarfs were replaced with handsome young men. As the story took shape, Leafé became the symbol of the apple in the story. It can pass on its life force to others, like a regular apple when eaten, or take away life as the poison apple did in the original story. Feeling that the concept of a woman being rescued by "Prince Charming" was old-fashioned and not fitting with modern girls, he decided to make Prétear's "Snow White", Himeno, a more assertive woman.